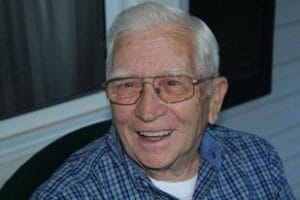 William Henry Wilcher, 101, of Craigsville, Virginia passed away Sunday, March 20, 2022 at his home.
He was born May 2, 1920 in Craigsville, Virginia, the son of the late Tom Henry Wilcher and Nannie Pearl Harris Wilcher.
William was a retired maintenance worker for Western State Hospital, as well as a laborer for Lehigh Portland Cement.
He was a veteran of the U.S. Air Force, having served during WWII.
William was a member of the Craigsville Pentecostal Holiness Church and VFW Post 2216 of Staunton, who loved to socialize with everyone, as well as work on his garden and yardwork.
He is survived by his wife, Juanita Welcher Wilcher; children: William Lee Wilcher and wife Claudette of Craigsville, Della Bazzrea of Augusta Springs; 8 grandchildren; 12 great grandchildren; 4 great great grandchildren; brother: Melvin Wilcher of Hayes, Virginia; sister: Hellen Burke of Swoope; and several nieces and nephews.
William was preceded in death by two sons: Carl and Marvin Wilcher; three brothers: Clyde, Clay, and Floyd Wilcher; and three sisters: Roselia Fitzgerald, Eunice Davis, and Nanny McCutcheon.
A funeral service will be conducted at 11:00 a.m., Wednesday, March 23, 2022 at Craigsville Pentecostal Holiness Church with Brother Garey Wilson officiating. Interment will be in Craigsville Community Cemetery.
Pallbearers will be Gary Wilcher, Matt Wilcher, Steven Bazzrea, Larry Wilcher, Timmy Gladwell, and Cody Wilcher.
The family will receive friends one hour before the service at the church.
Memorial contributions may be made to Craigsville Pentecostal Holiness Church.