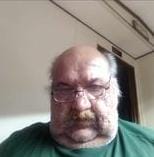 Stoney Ray Gregory, 65, of Staunton, Virginia passed away Tuesday, July 11, 2023 in Harrisonburg, Virginia.
He was born April 2, 1958 in Staunton, Virginia, the son of the late Clarence Calvin Gregory, Sr. and Helen Virginia Gregory.
Stoney was formerly employed as a bus aid for Augusta County Public Schools.
He was a member of the Waynesboro Moose Lodge 1191, and a loving grandfather who enjoyed being around people and remodeling his truck.
He is survived by son: Matthew Gregory; grandchildren: Trenton, Riley; brother: Rocky Gregory; sisters: Linda Metz, Wanda Wheeler; best friends: Jerry and Teresa Tisdale; special friends: Craig Mason and Tony Edwards; many other friends; and numerous nieces and nephews.
Stoney was preceded in death by 2 brothers: Calvin Gregory, Ricky Gregory; and a sister, Velma Carroll.
A funeral service will be conducted at 11:00 a.m. Friday, July 14, 2023 at Forest Chapel Church of the Brethren with Pastor David Stewart officiating. Interment will be in Forest Chapel Church of the Brethren Cemetery.
Pallbearers will be Jerry Tisdale, Tony Edwards, Russell Metz, Craig Mason, James Eavey, Chris Cash, David Thomas, and Joey Mooneyham.
The family will receive friends one hour before at the church.