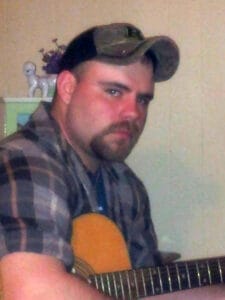 Steven D. Fridley, 33, of Swoope, Virginia, passed away Thursday, December 9, 2021, at his residence.
He was born January 13, 1988, in Augusta County, the son of Frances Fridley. Mr. Fridley was a 2006 graduate of Buffalo Gap High School. He was employed with Blue Ridge Lumber Yard in Goshen where he worked as a laborer.
Steven loved playing his guitar, camping, fishing, drawing, and hanging out with his friends and family.
He is survived by his mother, Frances Fridley of Craigsville; two brothers, William M. Burke of Goshen, Chris Miller of Craigsville, Virginia; his grandmother, Helen L. Burke of Goshen; his grandfather, Frankie Bowden of August Springs, Virginia; a special cousin, Cody Berry; and numerous other cousins, uncles and aunts who loved him very much.
He was preceded in death by his father, William Bowden; his grandparents, Tisha Fridley, James Fridley, and Sylvia Bowden; a special uncle, James Fridley with whom he loved to play pool; a special aunt, Dorothy Burke who he enjoyed playing dice with and could always strike up a good conversation with him.
A funeral service will be held 2:00 p.m., Wednesday, December 15, 2021, at the Craigsville Funeral Home with Pastor Pam Campbell officiating. Interment will be in the Craigsville Cemetery.
The family will receive friends Tuesday evening from 6:00 – 7:00 p.m. at the funeral home.