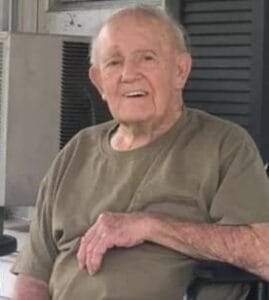 Sherman Houston McLain, 82, of Goshen, Virginia passed away Wednesday, October 6, 2021 at his home.
He was born June 26, 1939 in Craigsville, Virginia, the son of the late Hubert Zachary McLain and Odessa Jane Robertson McLain.
Sherman was formerly employed as a production line manager for Reynolds Metal Company, as well as being a farmer.  He was a veteran of the U.S. Army.
Sherman was a member of Craigsville Holiness Church.  He was a loving father, grandfather, and great grandfather, who enjoyed spending time with his family, farming, hunting, and fishing.
He is survived by his daughter: Terry Ann Painter of Craigsville; grandchildren: Phillip Painter and wife Christina of Waynesboro, Erin Painter and fiancé David Beverage of Staunton; great grandchildren: Caden Painter, Carly Beverage, Emerie Painter, Miles Painter; sisters; Fay McLain and Joanne McLain, both of Craigsville; special sister-in-law, Ann Stovall of Chickasha, Oklahoma. He was cared for by a wonderful support staff of caregivers and nurses.
Sherman was preceded in death by his wife, Bernitta Ruth McLain; as well as a brother and a sister.
A funeral service will be conducted at 11:00 a.m., Tuesday, October 12, 2021 at Craigsville Holiness Church with Pastor Garey Wilson officiating. Interment will be in Craigsville Community Cemetery.
Pallbearers will be David Swink, Danny Shifflett, RJ Melton, Gary Wilcher, Galen Graber, and Verlyn Martin.
The family will receive friends from 5 – 7 p.m., Monday, October 11, 2021 at Craigsville Funeral Home.
Memorial contributions may be made to Craigsville Holiness Church, 199 Craig St, Craigsville, VA  24430.