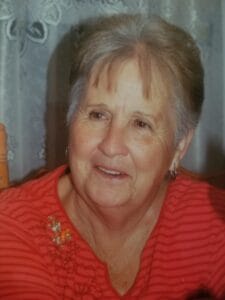 Sharon Alice Burke, 79, of Goshen, Virginia passed away Friday, November 19, 2021, at Carilion Rockbridge Community Hospital in Lexington, Virginia.
She was born July 15, 1942, in Augusta County, Virginia, the daughter of the late Raymond Sprouse and Mildred Ellen Wade Sprouse.
Mrs. Burke was a housewife. She was a loving wife, mother, grandmother, great grandmother, and great, great grandmother. She loved working on the farm, crocheting, and working on puzzles. She was a magnificent cook, and one of the most giving people you would ever want to meet.
She was married to the late Thomas R. Burke who preceded her in death in December 2009.
She is survived by four children, Tommy L. Burke & wife Amanda of Goshen, Debbie Campbell & husband Mike of Churchville, Virginia, Lisa A. Clark & husband Scott of Vesuvius, Virginia, and Rose Nicholson & husband Chuck of Goshen, Virginia; three brothers, Bernard Sprouse of Craigsville, Virginia, Albert Sprouse of Augusta Springs, Virginia, Willis Sprouse & wife Ruth of Monroe, North Carolina; 8 Grandchildren, 11 Great Grandchildren, and 2 Great, Great Grandchildren.
In addition to her husband, she was preceded in death by a brother, Buddy Sprouse.
A funeral service will be conducted at 11:00 a.m., Monday, November 22, 2021, at Craigsville Funeral Home with Claudette Wilcher officiating. Interment will be in the Burke Family Cemetery.