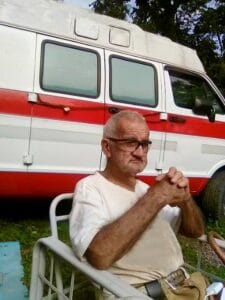 Richard Lincoln Meeks, 87, of Craigsville, Virginia passed away Saturday, November 6, 2021 at Augusta Health in Fishersville, Virginia.
He was born September 15, 1934 in Rockbridge Baths, Virginia, the son of the late William Meeks and Nellie Golden Hall Meeks Christ.
Richard was retired from being a self-employed plumber and repair man.
He was a loving father, grandfather, and great grandfather, who loved working on all kinds of projects.  Cars and trucks were his passion.
Richard is survived by his children: Tammy Woods and husband James, Terry Meeks, and David Meeks, all of Craigsville; 2 grandchildren; 6 great grandchildren; half-brother, Gene Crist and wife Donella of Richmond; half-sister, Laura Burke of Goshen; and his former wife Lucy Jane Martin of Craigsville.
He was preceded in death by a son, Donnie Meeks; 4 brothers, Wally, Tommy, Charles, Bobby; and 2 sisters, Nancy Lumsden, Patsy Owens.
A memorial service will be conducted at a later date. Interment will be in Craigsville Community Cemetery.