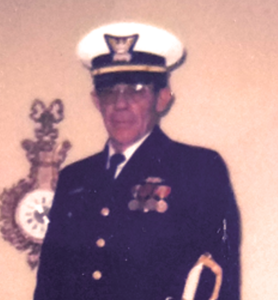 Resta "Nick" Nickell Cauley, Jr., 90, of Craigsville, Virginia passed away Wednesday, July 20, 2022 at Staunton, Virginia.
He was born December 7, 1931 in Craigsville, Virginia, the son of the late Resta Nickell Cauley, Sr. and Lucy May Samples Cauley.
Nick served as a CW04 in the United States Coast Guard as a Naval Engineman.
He was a veteran, serving 10 years in the Navy, and 17 years with the United States Coast Guard.
Nick was a life member of VFW Post 2216 and American Legion Post 13.
He is survived by his children: Annie Lawson, Nicky Cauley, Andy Cauley; grandchildren: Brian Lawson, Adam Lawson, Chris Cauley, Caitlyn Cauley; great grandchildren: Isabell Lawson, Chase Lawson, Derek Lawson, Evan Lawson, Blake Lawson, Abygail Lawson, Lily Lawson; sister, Ruth Bussard; and his beloved little dog, Baby Girl Kody.
Nick was preceded in death by his wife of 60 years, Stella Lumsden Cauley and a grandson, Derek Alan Lawson.
A graveside service will be conducted at 11:00 a.m. Monday, July 25, 2022 at Craigsville Community Cemetery with Pastor Claudette Wilcher officiating.
The family will receive friends from 6 – 7 p.m., Sunday, July 24, 2022 at Craigsville Funeral Home.