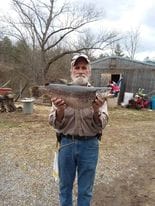 Paul "Pappy" Thomas Burke, Sr., 74, of Millboro, Virginia passed away Monday, April 17, 2023 in Millboro, Virginia.
He was born November 15, 1948 in Rockbridge County, Virginia, the son of the late Robert Franklin Burke and Elizabeth Irene Hite Burke.
Paul was formerly employed as a janitor for the Augusta County School System.
He was a member of the Lexington Moose Lodge who loved to hunt and fish.
Paul is survived by daughter: Carolyn Strickler and husband Thomas; grandchildren: Martha Burke and husband Tuck, Paul Strickler; great grandchildren: Hayley Burke and husband Jacob, Tommy Burke, Kali Burke, Harper Simons, Wesley Burke, Junior Grimm and wife Tasha, Maegan Grimm; brothers: Ralph Burke and wife Carolyn, Gene Burke and wife Patty, Scottie Burke and wife Roxie; sisters: Doris Sibold, Janet Burke, Judy Gum and husband Henry; special friends: Cathy Sterrett, Charlie Cox; and numerous nieces and nephews.
He was preceded in death by his first wife, Judy Burke; his son, Paul "Tommy" Burke, Jr.; and his brothers: Frankie Burke and Kenny Burke.
The family will receive friends from 6 – 7 p.m., Wednesday, April 26, 2023 at Craigsville Funeral Home, and at Martha's home any other time.
Memorial contributions may be made to Craigsville Funeral Home to help the family with expenses.