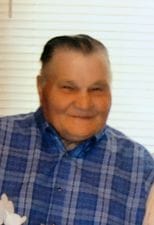 Paul Rodney Kennedy, 81, of Goshen, Virginia passed away Sunday, May 15, 2022 at Rockbridge Hospital in Lexington, Virginia.
He was born November 1, 1940 in Rockbridge County, Virginia, the son of the late Cecil Vernon Kennedy and Sadie Virginia Jackson Kennedy.
Paul was formerly employed as a logger for Lyle Alphin Logging.
He was a loving husband, father, grandfather, and great grandfather, who loved hunting and fishing.
Paul is survived by his wife: Betty Ann Peters Kennedy; sons: Rodney Kennedy, Jr., James Kennedy and fiancé Kim Sprouse; granddaughter: Sarah Kennedy Lesich and husband Jason;
great granddaughter: Raelyn Lesich, whom he loved with all his heart; sister: Julia K. Alphin; and numerous nieces and nephews.
He was preceded in death by 3 sisters, Thelma K. McLain, Hedie-Belle K. Fields, Mae K. Campbell; 2 brothers, Raymond E. Kennedy and Cecil "Bud" Kennedy.
A funeral service will be conducted at 2:00 p.m. Thursday, May 19, 2022 at Craigsville Funeral Home with Pastor Lloyd Via officiating. Interment will be in Little River Cemetery.
Pallbearers will be Lee Kennedy, Chester Burke, Glen Alphin, Jason Lesich, Mark Peters, George Alphin, Thomas "Tinker" Alphin, Jr.; honorary pallbearer will be Douglas Lyle.
The family will receive friends one hour before the service at the funeral home.
Memorial contributions may be made in lieu of flowers to Little River Cemetery.