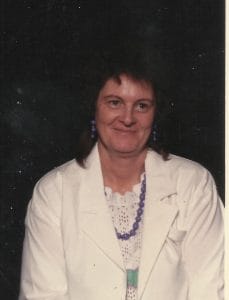 Martha Lorraine Jackson Forbes, 76, of Craigsville, Virginia passed away Wednesday, May 17, 2023 at Roanoke Memorial Hospital in Roanoke, Virginia.
She was born September 3, 1946 in Augusta Springs, Virginia, the daughter of the late Charles William Jackson and Mary Susan Shifflett Jackson.
Martha was formerly employed as a laundry cleaner for Best Western.
She was a member of Craigsville Southern Baptist Church who loved everyone she met.
Martha is survived by her husband of 33 years, Donald Wayne Forbes; children: Linda Jackson, Ira Fridley and wife Missy, Mark Woods, and Donald Forbes, Jr; grandchildren: Stephanie, Austin, Conway, Miranda, Josh, Chad, Courtney, Dawn, Brandon, Marvin, Katie Bug, Candace, Gracin, Alaina, Misty, Matthew; 8 great grandchildren; brothers: Charles "Ink" Jackson; sisters: Judy Adkins; and numerous nieces and nephews; special nieces: Tracy McCutcheon and Melissa Berry; and aunt, Janie Doyle, all of Augusta Springs.
She was preceded in death by her sons: Oscar Woods, Danny Fridley, Bruce Woods; grandson, Quinton Fridley; brother, Roy Jackson; and sisters: Bonnie McCutcheon, Nellie Ann Jackson.
A funeral service will be conducted at 3:00 p.m. Monday, May 22, 2023 at Craigsville Funeral Home with Pastor Mike Herring officiating. Interment will be in Craigsville Community Cemetery.
Pallbearers will be David McCutcheon, Donald Woods, Randy McCutcheon, Robert Oscar, Ryan Bass, and Alex Snow.
The family will receive friends from 6 – 7 p.m. the night before at Craigsville Funeral Home, as well as one hour before the service.