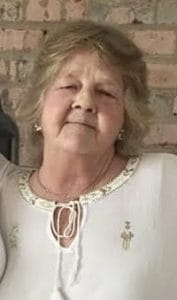 Margie Irene Spradlin Judy, 75, of Roanoke, Virginia passed away Monday, May 22, 2023 at Roanoke, Virginia.
She was born April 22, 1948 in Scottsville, Virginia, the daughter of the late Samuel Lynwood Spradlin and Margaret Elizabeth Cale Spradlin.
Margie was formerly employed as a housekeeper.
She is survived by her husband, Bobby "Sonny" Duane Judy; children: Tina Dove of Myrtle Beach, South Carolina, Cynthia Williams and husband Mark of Roanoke, Shandi Pettus and husband Jason of Christiansburg; grandchildren: Christine, Lillibeth; great grandson: Jeremiah; brothers: Robert Spradlin and special friend Sue Desper of Staunton, Johnny Spradlin and wife Gloria of Craigsville, Grover Spradlin and special friend Mary Ann Shuey of Swoope, Charlie Spradlin of Roanoke; numerous nieces and nephews; and special nieces: Roxie Burke and Cheryl Spradlin.
Margie was preceded in death by a step-son, Bobby Judy, Jr.; sisters: Marie Fridley and husband John, Lena Loan and husband Junior; brother, Russell Spradlin; sisters-in-law: Mary Spradlin, Barbara Spradlin; and nephews: Michael Spradlin, JD Fridley.
A memorial service will be conducted at 11:00 a.m., Friday, May 26, 2023 at Craigsville Funeral Home with Pastor Michael Herring officiating.
The family will receive friends at Roxie Burke's home.