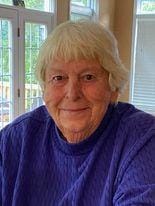 Linda Lou Smith White, 81, of Staunton, Virginia passed away Tuesday, June 13, 2023 at her home, Staunton, Virginia.
She was born November 24, 1941 in Jackson, Kentucky, the daughter of the late Midas Kenneth Smith and Mary Irene Vires Smith.
Linda was a life-long homemaker.  She was a loving mother and grandmother, who thought the world of her family.  Linda graduated from Breathitt High School in 1959. After high school, she married Johnny White and they raised one son, John White. Linda had a passion for reading.  She loved to sit outside with a good book and enjoy nature.  Living the life of a military spouse, Linda moved often and developed lasting friendships across the U.S.  Linda was known for her kind heart and loving spirit.
She is survived by her son, John David White and wife Susan of Springfield, VA; 3 grandchildren: Jonathan "AJ" White and wife Jessica, Aaron White, Alexis "Lexi" White; and a brother: Glenn Smith and wife Mary of Corydon, Indiana.
Linda was preceded in death by her husband Johnny Cecil White, and two brothers, Erskine and Junior.
A funeral service will be conducted at 11:00 a.m., November 24, 2023 at the National Memorial Cemetery of Arizona
She will be greatly missed by all who knew her.