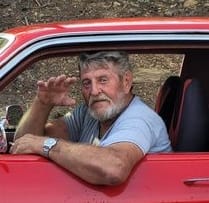 Larry Wayne Hinkle, 72, of Goshen, Virginia passed away Saturday, December 31, 2022 at his home.
He was born May 13, 1950 in Rockbridge County, Virginia, the son of Ruth Jane Hostetter Kirby and the late Ramus Hinkle.
Larry was self-employed as a carpenter for most of his life and always called himself a shade tree mechanic.
He was a veteran of the U.S. Air Force.
Larry is survived by his children: Donna Wilkins, Jason Wilkins, Matthew Hinkle, Teresa Woodzell; grandchildren: Savannah, Austin, Jaxton, Madilynn, Miles, Logan: and a brother, Houston Hinkle.
He was preceded in death by his wife, Cynthia Ingram Hinkle; and a brother, George Hinkle.
A private service will be conducted at a later date.
Memorial contributions may be made in lieu of flowers to help the family with expenses at 4 Rockbridge Way, Goshen, VA 24439.