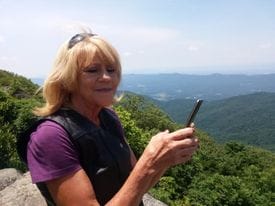 Karen Mills Lyle, 68, of Goshen, Virginia passed away Friday, August 12, 2022 at her home.
She was born June 12, 1954 in Beckley, West Virginia, the daughter of the late Ernest Dexter Mills and Icy Emogene Walker Mills.
Karen was employed as USDA food inspector for 25 years.
She was a child of God who loved helping people, gardening, crafting, and going for motorcycle rides.
Karen is survived by her husband: Tom Lyle; children: Joseph Webb, Adam Webb, Laura Mitchell, Jennifer Dellinger; step-children: Rachel Lyle, Craig Lyle, Danielle Lyle;  14 grandchildren; 2 great grandchildren; brothers; Larry Mills, Kevin Mills; and treasured mother-in-law: Patricia Knight.
She was preceded in death by a sister: Barbara Mills; and 3 brothers: Roger, Gary, and Jimmy Mills.
A celebration of life will be conducted from 2 – 6 p.m. Sunday, August 21, 2022 at Sandy Bottom Park, 610 E. College St, Bridgewater, VA  22812.