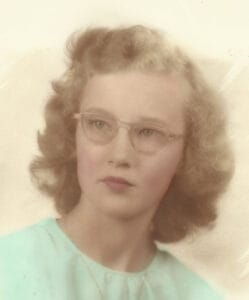 Janet Viola Bowyer Sprouse, 87, passed away Monday, November 29, 2021 at her home in Goshen, Virginia.
She was born June 12, 1934 in Goshen, the daughter of the late Earl Clarence Bowyer and Susie Ann Plogger Bowyer.
Janet was formerly employed as a secretary for Stillwater in Goshen, as well as helping run the general store with her husband J.B.
She was a member of Goshen Baptist Church and a dispatcher for the Goshen First Aid for many years, and was a loving wife, mother, grandmother, and great grandmother, who enjoyed reading and loved the family pets.
Janet is survived by her son, Darrell L. "Buddy" Sprouse of Bath County; grandson, Eli Sprouse and wife Gabrielle of Goshen; great granddaughter, Aubrey Rain Sprouse; special nieces: Faye Fitzgerald, Snookie Sherwood; and special great niece, Trina Thomas.
She was preceded in death by her husband, "J.B." Sprouse, as well as 3 sisters and 2 brothers.
A memorial service will be conducted at 2:00 p.m., Friday, December 3, 2021 at Goshen Baptist Church with Pastor Scott Reese officiating.
Memorial contributions may be made to the Goshen Fire Department.