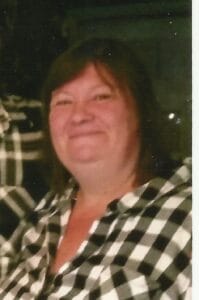 Gracie Etta Hupman Billings, 55, of Williamsville, Virginia passed away Thursday, November 25, 2021 at Augusta Health, Fishersville, Virginia.
She was born December 22, 1965 in Bath County, Virginia, the daughter of the late James Lyle Hupman and Mary Edith Robinson Hupman.
Gracie was a good hearted woman who always put others first.
She is survived by her husband, Callie Joe Billings; children: Elizabeth K. Billings, Joseph E. Billings; brothers: Jamie Hupman, John Hupman; sisters: Katherine Lindsay, Lynn Mangiliman, Judy Sanchez; great aunt, Sis Ryder; cousin, Ronnie Hodge; and many nieces and nephews.