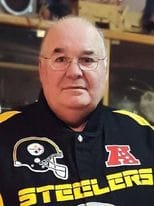 Gene Bentley Thompson, Sr., 73, of Craigsville, VA passed away Monday, March 7, 2022 at Augusta Health, in Fishersville, Virginia.
He was born December 4, 1948 in Staunton, Virginia, the son of the late John Bentley Thompson and Betty Jean Malcolm Thompson.
Gene was formerly employed as a quality control engineer for Klann, Inc.
He was a veteran of the US Navy.
Gene was a member of Mt. Calvary Baptist Church, where he served as song leader and choir director.  He was an avid hunter and fisherman, member of the NRA, huge Pittsburgh Steelers fan, a member of the Thompson Family Gospel Singers, and a graduate of Blue Ridge Community College.
Gene is survived by his wife of 53 years, Janet Marie Law Thompson; children: Becki Hise and husband Chris of Rockwell, North Carolina, Mary Cash of Waynesboro, Gene "Ben" Thompson, Jr. and wife Sarah of Ft. Defiance; adopted daughter: Vanessa Bussard; grandchildren: Justin Johnson and wife Tori, Stephanie Bowles, K.C. Cash, Brandon Cash, A.J. Thompson, Evan Thompson, Aidan Thompson; great grandchildren: Kiralynn Bowles, Matthew Cash, Bradley Johnson; brother: Danny Thompson of Craigsville; sisters: Deborah Hepler of Rockwell, NC, Cynthia Powell of Roanoke Rapids, NC; numerous nieces, nephews, and cousins that he loved dearly; and special friends Bill and Elaine DePari, Bro. Ernie Harmon, Joe Pritchard, and Paul Pritchard.
He was preceded in death by a special brother-in-law: David Hepler.
A funeral service will be conducted at 11:00 a.m., Saturday, March 12, 2022 at Craigsville Funeral Home with Pastors Joe and Paul Pritchard officiating. Interment will be in Craigsville Community Cemetery.
Pallbearers will be Ben Thompson, Richard Alan Fox, Josh Mawyer, K.C. Cash, Brandon Cash, Justin Johnson, Chris Hise, and Andrew Southerland.
The family will receive friends from 6 – 7 p.m., Friday, March 11, 2022 at Craigsville Funeral Home.