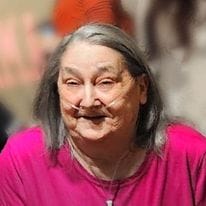 Gail Elaine Newlen Cash, 66, of Craigsville, Virginia passed away Tuesday, April 11, 2023 at Augusta Health in Fishersville, Virginia.
She was born May 25, 1956 in Staunton, Virginia, the daughter of the late Bryan Edward Newlen and Delores Jean Robertson Newlen.
Gail was formerly employed as a correctional officer for the Virginia Department of Corrections.
She loved her great grandchildren more than anything in the world, had a heart of gold that would light up a room no matter where she was, and would go without to ensure that everyone else was taken care of.
Gail is survived by her husband, Hampton Leonard Cash; daughter, April Klossner and husband Michael of Peterstown, West Virginia; grandchildren: Courtney, Brooklyn, Savannah; great grandchildren: Dalton, Colter, Enslee, Bentley, Ryker; brothers: Ricky Newlen, David Newlen, Robert Robertson; sister, Dana Cash; numerous nieces and nephews; and a special friend, Nancy Doyle.
She was preceded in death by a grandson, Chris Morris; and a brother, Tommy Newlen.
A graveside service will be conducted at 10:00 a.m. Friday, April 14, 2023 at Craigsville Community Cemetery with Pastor Lee Lawson officiating.
Memorial contributions may be made in lieu of flowers to the American Lung Association.