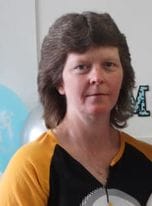 Fonda McHenry Sprouse, 53, of Craigsville, Virginia went to be with the Lord Thursday, September 15, 2022 at her home.
She was born July 28, 1969 in Maryland, the daughter of the late Alf Junior McHenry and Rachel Ann Ingram McHenry.
Fonda was previously employed as a blender operator for Cornerstone.
She was a member of St. Paul's United Methodist Church, and was a loving mother and grandmother who enjoyed spending time with her family and friends, cook, gardening, going to the beach, and was also an avid Steelers fan.
Fonda is survived by her husband, Steve Edward Sprouse, Sr.; daughter: Laura Lane and husband Josh; step-children: Megan Deel, Steven Sprouse, Jr; special grandson, Ryan Lane; grandchildren: Madison, Jayden, Adelyne, Sadie, Parker; sisters; Debbie Ingram and husband Johnny, Sallie Madison; other; special nieces: Jennifer Wright, Kelsea Wright; father-in-law, Jesse Sprouse; and numerous nieces and nephews.
She was preceded in death by 2 sisters: Donna Wright and Faye McHenry; and a brother, Sambo Poole.
A funeral service will be conducted at 2:00 p.m. Tuesday, September 20, 2022 at St. Paul's United Methodist Church with Pastors Claudette Wilcher and Cody Adkins officiating. Interment will be in Little River Church of the Brethren Cemetery.
Pallbearers will be Josh Lane, Bill Stevens, Steven Sprouse, Jr., Michael Wright, John Ingram, and Jamie Petty
The family will receive friends from 6 – 7 p.m., Monday, September 19, 2022 at Craigsville Funeral Home.