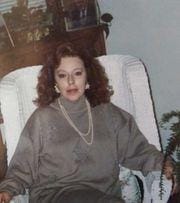 Philomenia Faye Sensabaugh Fitzgerald, 76, of Goshen, Virginia passed away Friday, August 4, 2023 at her home.
She was born July 16, 1946 in Rockbridge County, Virginia, the daughter of the late Grant Norman Sensabaugh and Lucille Beatrice Bowyer Sensabaugh.
Faye was formerly employed as a manager for Holiday Inn.
She loved her family and to arrange flowers.
Faye is survived by her son: Richard "Ricky" Lee Benson and companion of 30 years Terry Holtz; close cousins: Darrell "Buddy" Sprouse, Eli Sprouse and wife Gabrielle, Aubrey and Mallory Sprouse; special cousins from Maryland; and a special thanks to the Sensabaugh family for all their support over the years.
A private family memorial service will be conducted at a later date.
Memorial contributions may be made to Craigsville Funeral Home to help the family with expenses.