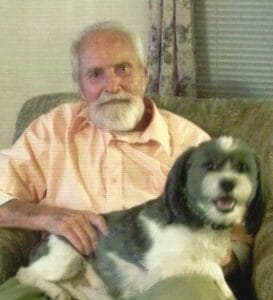 Eugene "Gene" Fridley, 94, of Staunton, Virginia went to be with his Lord and Savior Friday, June 3, 2022 at Birch Ridge Assisted Living, in Staunton, Virginia.
He was born October 4, 1927 in Augusta Springs, the son of the late Millard Carlyle "Tinker" Fridley and Sadie Mae Buchanan Fridley.
Gene was retired from Reid's Grocery Store as a meat cutter, and also worked for Lehigh Portland Cement Company, Shop & Save, and Gray's Grocery.
He was a veteran of the U.S. Navy where he served for 2 years as an aircraft crewmember and earned the Good Conduct Medal.
Gene was a member and ordained minister of the Joyful Sound Church.  He was a great neighbor, always helping others in his neighborhood.
He is survived by his children: Ricky Fridley and wife Pat of San Antonio, Texas, Jerry Fridley and Terry Painter of Craigsville, Donna Kelso of Stuarts Draft; 6 grandchildren: Nicole, Cassie, Patrick, Ellen, Mikey, Karen; 10 great grandchildren; 3 great great grandchildren; special friends: Susie Thompson, Susie Holmes, the staff of Birch Ridge Assisted Living especially Jamie, Amy, and Cassie; his neighborhood friends: Woody, Mark, Michele, Chris, Lisa, and Mrs. Whitmore; and his special puppy and best friend, Chucky.
Gene was preceded in death by his wife, Doris Lee Marshall Fridley; a son, Raymond "Moose" Fridley, Jr.; a brother, Linwood Fridley; and a son-in-law, Lowell Kelso.
A graveside service will be conducted at 2:00 p.m., Tuesday, June 7, 2022 at Craigsville Community Cemetery with Reverend Mike Herring officiating.
Pallbearers will be Jimmy Ramsey, Gabe Ramsey, Drew Ramsey, Wayne Puckett, Bradley McGuffin, and Addison McGuffin.
Memorial contributions may be made in lieu of flowers to Joyful Sound Church, P.O. Box 100, Augusta Springs, VA  24411.