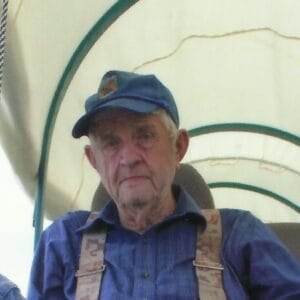 Dorsey G. Dill, 88, of Goshen, Virginia passed away peacefully Friday, September 17, 2021 at his home in Goshen, Virginia.
He was born April 10, 1933 in Rockbridge County, Virginia, the son of the late William Garnett Dill and Jesse Scott Dill.
Dorsey was born and raised on the right side of 42 in Rockbridge County.  He married at the age of 24 to Naomi Minter.  They moved in on the opposite side of 42 and lived there for 64 years.
He was employed as a farmer with his brothers.  Dorsey raised Black Angus and Charlais cattle as well as hogs.  He and his brothers butchered their own meat.  In the off season he and a brother cut pulpwood.  Dorsey drove the school bus while attending school, and worked for Stillwater Mills in Goshen, Craigsville, and Augusta Springs.  He made parts for obsolete equipment and drove the tractor and trailer up North.  He was Jethro of the local Beverly Hillbillies who participated in all local parades during the 60's.
Dorsey was a lifetime member of the Buffalo Trail Riders Club and Goshen First Aid Crew.  He attended Proclaim Ministries just outside of Craigsville.
He loved his grandchildren and great grandchildren, and loved spending time with them.  He could make you laugh with very little effort.  He probably buried some of your family and most likely covered your trash at the dump.  Why say all of this?  To let you know he was a hard worker.
He is survived by his wife, Naomi; children: Pam Campbell and husband Junior of Goshen, Dorsey Dill, Jr. of Buena Vista; special daughters, Yvonne "Missy" Lockridge of Burnsville, Ann Martin of Goshen; special niece: Donna Walton and husband Kevin of Craigsville; grandchildren: Jessica Walker and husband Cy of Goshen, Cornita Karr of Goshen, Nathan Lee Karr of Midlothian, Shawn Karr of Lynchburg, Corey Karr of Goshen; and great grandchildren: Kalionna Bosserman of Staunton, Colton and Brett Walker of Goshen.
He was preceded in death by 3 brothers, Joe K. Dill, William Scott Dill, and Roy B. Dill.
A funeral service will be conducted at 2:00 p.m. Monday, September 20, 2021 at Craigsville Funeral Home with Pastor Lloyd Via officiating. Interment will be in Lebanon Presbyterian Church Cemetery.
Pallbearers will be Ronnie Campbell, Wyatt Sours, Troy Wilcher, Lewis Graham, Matthew and Michael Burke, Basil Karr; honorary pallbearers will be Caleb and Luke Graham, Bill Oscar, Eric Shifflett, Roy Lawhorn, and Billy Baker.
The family will receive friends from 5 to 6 p.m. Sunday, September 19, 2021 at Craigsville Funeral Home.
Memorial contributions may be made to the Craigsville Area Food Pantry, P.O. Box 400, Craigsville, VA  24430.