Dora Jean Campbell Sprouse, 74, of Craigsville, Virginia passed away Monday, July 12, 2021 at her home.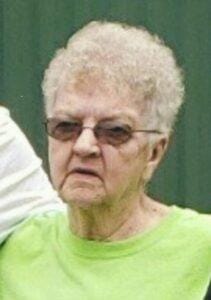 She was born May 26, 1947 in Rockbridge County, Virginia, the daughter of the late Earl Kenneth Campbell and Edith Virginia Sensabaugh Campbell.
Dora was formerly employed as a cloth inspector for Stillwater in Goshen.
She loved gardening, shopping, and spending time with her grand and great grandchildren.
Dora is survived by her husband, Bernard "B.H." Hankins Sprouse of Craigsville; children: Samuel "George" W. Sprouse and wife Beth of Barren Ridge, Jo Ann Hart and husband John of Fishersville, Roger "PeeWee" Lee Sprouse of Craigsville, Jeff Sprouse and wife Kaitlyn of Waynesboro, Shannon Sprouse of Waynesboro; foster children: Rebecca Gladwell-Ramsey and husband Aaron of Mt. Solon, Raine Marshall of Staunton; 11 grandchildren; 15 great grandchildren; brothers; Junior Campbell and wife Pam of Craigsville, Stanley "Pete" Campbell and wife Darlene of Craigsville, Alan "Buck" Campbell of Goshen; sisters; Betty Campbell of Goshen, Mary Lou Jackson and special friend Lenny of Millboro, Shirley Knight and husband Danny of Goshen, Linda Root of Goshen; numerous nieces and nephews; special friends, William and Claudette Wilcher; and special pets, her dog Cookie and bird Emma.  The family would also like to extend a special thank you to the folks at Hospice of the Shenandoah for the kindness and care they provided.
She was preceded in death by her first husband, Raymond Samuel Sprouse; and her siblings: Marvin Cambpell, Kenneth Campbell, Frances Strickler, and Delores Campbell.
A graveside service will be conducted at 11:00 a.m., Thursday, July 15, 2021 at Little River Church of the Brethren Cemetery with Claudette Wilcher and Pam Campbell officiating.
Pallbearers will be her grandchildren
The family will receive friends from 6 – 7 p.m. the night before the service at Craigsville Funeral Home.
Memorial contributions may be made to UVA Cancer Center or to Hospice of the Shenandoah Valley.