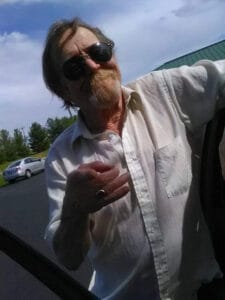 Darryl Gene Frost, Sr., 74, of Staunton, Virginia passed away Friday, April 15, 2022 at UVA Medical Center in Charlottesville, Virginia.
He was born February 15, 1948 in Dexter, Maine, the son of the late Perry Leroy Frost, Sr. and Persis Gertrude Knowlton Snowman.
For over 20 years Darryl was employed as a general laborer for Faulkner Construction.
He was a loving father, grandfather, and great grandfather who enjoyed fishing, camping, traveling, and sightseeing with his family.  He always told them "I'm with you" during hard times.
Darryl is survived by his children: Rhonda Riley and husband Ronnie, Sandy Jobe, Dawn Frost, Darryl Frost, Jr.; grandchildren: Nathan Frost, Cameron Frost, James Dodge, Taylor Blakeney, Alex Frost, Stephanie Knott, Aaron Riley; great grandchildren: Grayson Purvis, Kailey Knott, Lydia Knott, Adalyn Knott; brothers: Gerry Frost, Doug Pratt; sisters: Beatrice Hilton, Mary Davis, Rhonda Snowman; his first wife: Wanda Bazzrea; and his ex-wife: Elsie Bowman.
He was preceded in death by a brother: Perry Frost, Jr.
A funeral service will be conducted at 11:00 a.m., Tuesday, April 19, 2022 at Craigsville Funeral Home with Pastor Golden Clark officiating. Interment will be in Craigsville Community Cemetery.
Pallbearers will be Darryl Frost, Jr., Nathan Frost, James Dodge, Alex Frost, Cameron Frost, and Earl Strickler.
The family will receive friends from 6 – 7 p.m. Monday, April 18 at Craigsville Funeral Home.