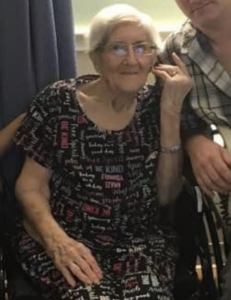 Cleta Pearl Harler Herring, 95, of Baltimore, Maryland passed away Sunday, October 9, 2022 at Glen Burnie, Maryland.
She was born September 4, 1927 in Lexington, Virginia, the daughter of the late Mary Anne Hall Thompson.
Cleta was formerly employed at Montgomery Ward in the packing department.
She loved spending time with her family and friends, and was an avid duck collector.
Cleta is survived by her children: Mary Ann Clary, Shirley Marie Doxey and husband Otto, Dewanda Hopkins, Howard D. Herring, all of Baltimore; grandchildren: Marlene Neujahr, William Clary, Jr., Shaun Clary, Cleta Anderson, Adam Herget, Thomas Clarke III; 13 great grandchildren; 6 great great grandchildren; brothers: Bill Harler, Rodger Harler; sisters; Annie Foster, Jean Bright; and numerous nieces and nephews.
She was preceded in death by her husband, Howard Herring; a daughter, Sandra Davis; a son, James Herring; son-in-law, William Clary, Sr.; 3 brothers and 2 sisters.
A graveside service will be conducted at 3:00 p.m. Wednesday, October 12, 2022 at Craigsville Community Cemetery with Pastor Mike Herring officiating.
Arrangements are being handled by Craigsville Funeral Home. Online condolences may be made at www.craigsvillefuneralhome.com.