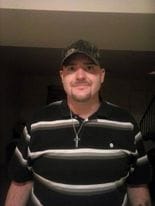 Brandon Dean Powell, 37, of Goshen, Virginia passed away unexpectedly Thursday, September 15, 2022 at his home.
He was born October 31, 1984 in Staunton, Virginia, the son of Linda Hazelwood Powell and the late Marvin Hunter Powell, Jr.
Brandon was employed as a chef for The Palms in Lexington and formerly was a chef for Mary Baldwin College.
He was an honor graduate of Bath County High School and earned an Associate's Degree in Culinary Arts and Management at Dabney S. Lancaster Community College.
Brandon will be missed for his smile, kind heart, and his love of the Lord and people.  He never met a stranger, and was an excellent cook.  His friends will miss his good food.  Brandon enjoyed sports and played tee-ball, baseball, basketball, football, and wrestled in high school.  He was a devoted fan of the Steelers, Atlanta Braves, and Metallica.
Brandon is survived by his mother; sisters: Miranda "Randa" Landrum and husband Scott, Melissa Hazelwood; great nephew and "His Little Buddy", George Landrum; uncle, Randol Powell; aunt, Robin Powell; great uncle, Sonny Wilhelm; cousins: Dustin Powell, Justin Powell, Autumn Powell; good friends: Tonya Bryant, Eddie Bryant, Beulah Bryant, Amanda Bryant, David Lipscomb, Patti Johnson, Shane Spicer; as well as all his friends at the Hope Center Ministries where he was a chef.
In addition to his father, he was preceded in death by his grandparents: Ellen P. Floyd and husband Bernard, Florence and Marvin H. Powell, Sr., Charles F. Hazelwood; and his aunts and uncles: George F. and Hazel Hazelwood, Larry D. Hazelwood, and Gary and Cathy Powell.
A memorial service will be conducted at 6:00 p.m. Thursday, September 22, 2022 at Craigsville Funeral Home with Pastor Scott Reese officiating.
Memorial contributions can be made in lieu of flowers to the Goshen Fire and Rescue Squad or Hope Center Ministries, 6871 Irisburg Roads, Axton, VA 24054.
Fly high Brandon, you deserve it!