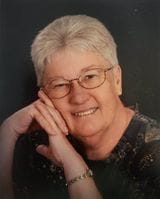 Bonnie Sue Lawhorn Sampson, 72, of Goshen, Virginia went to be with the Lord on Wednesday, May 24, 2023 at her home, surrounded by her family.
She was born March 27, 1951 in Goshen, Virginia, the daughter of the late Roy Lee Lawhorn and Louise Karr Lawhorn.
Bonnie was a homemaker nearly all of her life.
She was a member of Goshen Baptist Church who loved to watch birds from her window, play cards, Sudoku, talking on the phone, and being with her family.
She is survived by her husband of 53 years, Gerald Wayne Sampson; children: Diane Sibold and husband Johnny of Millboro, Tammy Sampson and fiancé Eddie Bryant of Goshen; grandchildren: Steven, Jason and wife Christie, Kayla and husband William, Rebecca, Keith and wife Mikahla; great grandchildren: Ambre-Lee, Shelby, Ali, Annabelle, John Thomas, Ronan; brother, Donald Lawhorn and wife Pat of Goshen; sister, Gale Tolley and husband Billy of Goshen; sister-in-law, Jessie Lawhorn of Craigsville; numerous nieces and nephews; special nephew, Josh; special niece Lisa; and special friend, Mike Jolly.
Bonnie was preceded in death by a grandson, Devin Riley; 3 brothers, Russell Lawhorn, James "Chicken" Lawhorn, Harrison Lawhorn; and 3 sisters, Thelma Huffman, Betty Lou Huffman, and Mary Bosley.
A funeral service will be conducted at 11:00 a.m. Tuesday, May 30, 2023 at Goshen Baptist Church with Pastor Scott Reese officiating. Interment will be in Goshen Baptist Church Cemetery.
Pallbearers will be Keith Riley, Jason Waller, Eddie Bryant, Johnny Sibold, William Berry, and Mike Jolly.
The family will receive friends Monday, May 29, 2023 from 6 – 7 p.m. at Craigsville Funeral Home.
Memorial contributions may be made to the Goshen Volunteer Fire Department.