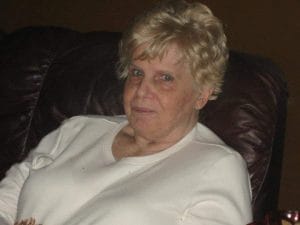 Beverly Jean Metcalf Boothe, 84, of Goshen, Virginia passed away Tuesday, September 6, 2022 at her home.
She was born May 5, 1938 in Baltimore, Maryland, the daughter of the late Reginald Offitt Metcalf and Gertrude Nellie Smith Metcalf.
Beverly was formerly employed as a parking control agent for the city of Baltimore.
She was a member of Little River Church of the Brethren and the Craigsville VFW Ladies Auxiliary, who loved her family, her home, and tending to her garden.
Beverly is survived by her husband of 43 years, Richard Franklin Boothe, Sr.; children: Karen Martin, Patricia Chene and husband Randy, Richard Boothe, Jr., Michael Boothe and wife Terry, Ronald Boothe and wife Lisa, Kimberly Burket; grandchildren: Aaron, Courtney, Anthony, Lee, Brooke, Christine, Kelly, Gina; special great grandchildren: Sophia, Isabele, Alice, Vada, Clara, Hailey, JoJo, Maria, Stelios, and Kayla; many other great grandchildren;  great great grandchildren, Brenlee, Lennon; sister, Margie Santos; special niece and nephew: Marcy Amrhein and Kenny Davis; and a special cousin, Patricia Trenton.
She was preceded in death by her children: Michael Eckles, Carolyn Nowakowski, Karen Boothe; special son-in-law, Jimmy Martin; 2 grandsons: Angelo and Michael; a great granddaughter, Angeliki; and numerous brothers and sisters.
A memorial service will be conducted at a later date at her home.