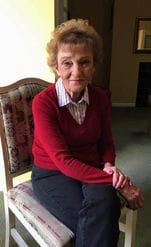 Betty Jane Shifflett Nichols, 77, of Craigsville, Virginia passed away Sunday, January 29, 2023 at King's Daughters Nursing Home in Staunton, Virginia.
She was born December 14, 1945 in Greene County, Virginia, the daughter of the late John Lillard Shifflett and Fannie Jarrell Shifflett.
Betty was formerly employed in the packaging department of Marshall's distribution center.
She loved cooking for people, going to thrift stores, talking on the phone with her friends and family, getting flowers on Mother's Day and her birthday, and watching Lifetime on television.
Betty is survived by her children: Jeffrey Knight and wife Tonya of Randleman, North Carolina, Kevin Knight and wife Karen of Gibsonville, N.C., Brian Nichols and wife Trina of Craigsville, Bobby Nichols of Craigsivlle; 19 grandchildren; 18 great grandchildren; and a friend who was like a son to her, Chad Woods.
She was preceded in death by her husband, Hoyle Nichols; a brother, Glenn Shifflett; and a sister, Peggy Shifflett.
A private memorial service will be conducted at a later date.