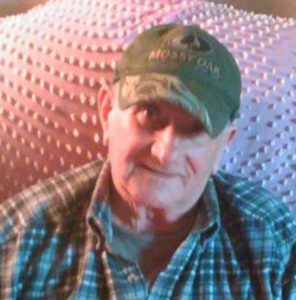 William "Frankie" Franklin Bowden, 79, of Craigsville, Virginia passed away Thursday, February 10, 2022 in Goshen, Virginia.
He was born December 8, 1942 in Augusta County, Virginia, the son of the late Harry Wayne Puckett and Margaret Lee Gordon.
Frankie was formerly employed as a truck driver for Transit Mix for over 30 years.
He was a veteran of the U.S. Navy.
Frankie loved hunting, drinking, and talking to anyone and everyone.
He is survived by his daughters, Carolyn Knight and husband Robert of Craigsville, Donna Randozzo and husband John of Goshen; grandchildren, Christopher Miller, Stephen Fridley, Heather Bowden, Natasha Bowden, Jessica Bowden, Crystal Bowden, J.W. Bowden, Regina Shiplett, Jesse Bowden, Amy Knight, Robert Knight, Robbie Knight, J.R. Knight, Sarah Knight, Joseph Thompson, Jr., Rose Abshire, David Knight; great grandchildren, Brooklyn, Cheyenne, Cherokee, Addison, Kelly, Sadie, Riley, Lilly, Bentley, Tyler, Brianna, Brantley, Alayna, Owen, Trenton, Kailin, Serenity Randozzoo; brothers, Doug Gordon of Churchville, Charlie Puckett of Stuarts Draft, Wayne Puckett of Craigsville; sisters, Linda Combs of Florida, Daisy Blevins of Augusta Springs; and a special friend, Jimmy Hemp of Stuarts Draft.
Frankie was preceded in death by his wife of 64 years, Sylvia Stokes Bowden; 2 sons, William and John Bowden; grandson, Eddie Bowden; and brother, Donald Gordon.
A graveside service will be conducted at 2:00 p.m., Friday, March 11, 2022 at the Bowden Family Cemetery with Pastor Tom Quick officiating.
The family will receive friends from 6 – 7 p.m., March 10, 2022 at Craigsville Funeral Home.
Memorial contributions may be made in lieu of flowers to Craigsville Funeral Home to help the family with expenses.